29th September 2020
Rosemary Jewers and her friend Rina Adams have completed their walk along Peddars Way from Colchester in Essex, all the way to Holme-next-the-Sea in Norfolk.
They began their walk in Colchester on Tuesday 22nd September, and walked 10 to 13 Miles each day through hot sun, then wind and rain, to reach their destination almost 90 miles later mid-afternoon on 29th September. They were hoping to raise £5000 towards St Andrew's Church Roof fund, but have exceeded that target with over £8500 so far!
Family and friends walked with them on some of the stretches and can testify to some of the horrible conditions and blisters they endured.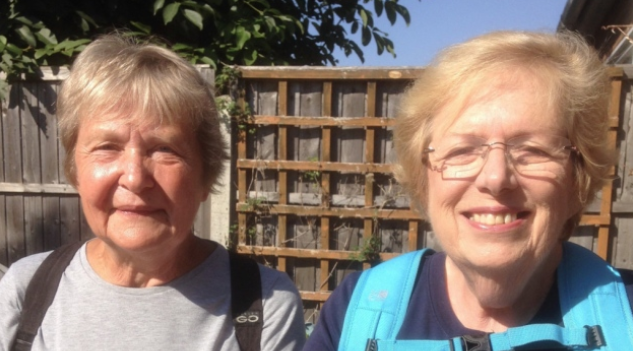 Rosemary (nee Brereton), who was born and raised, Lt. Massingham has family connections with St Andrews Church. Her great-great-grandfather arrived as Rector in 1820, and his son and grandson followed as rectors after him. Rosemary is the Patron of the parish.
She was inspired to take on the walk along Peddars Way (an ancient Roman Road) which runs through Lt. Massingham, via Castle Acre and officially to Knettishall Heath, in an attempt to raise funds for the Church Roof.
However Rosemary had been told by her family that Peddars Way actually goes all the way through Suffolk and into Essex to Colchester (the Roman capital of Britain) where she now lives.
It is still not to late to make a donation!
If you would like to donate (without Gift Aid) then donate via Rosemary's JustGiving page.
We are busy trying to set up a Charity and HMRC GiftAid so that we can claim an extra 25% from HMRC. If you want to donate with GiftAid then you can send a Cheque made payable to "Friends of St Andrews Church Lt. Massingham", and please include a GiftAid donation form.
Cheques can be handed in (with GiftAid form) to Lings Country Goods, Lynn Road, Great Massingham, King's Lynn PE32 2HJ.
If you don't live locally and want other options to donate (with GiftAid) then please email us and we'll send you details on how you can best donate. (We're in the process of getting a bank account set up – so hopefully in the next week or so we can provide more details for paying in via BACS or at a local Post Office etc).
Find out more…
You can read more about Rosemary's walk on her blog, including details of the route and her research.
Publicity
Rosemary has managed to get a lot of publicity for her walk. See some of the press coverage below!